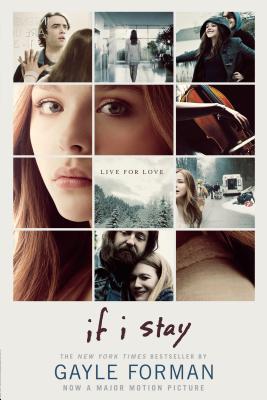 Hello bookworms,
Today I am going to write a book review on "If I Stay", by Gale Forman.  If it had not snowed that night it might not have happened, if her mom didn't call off work that morning it might not have happened,  if Mia had not closed her eyes that day it might not have happened, if only the cars didn't crash, Mia wouldn't have had the question, if I stay. But she does, her parents are dead, her brother maybe too, and she, she doesn't know what state she's in. Her life is ruined , but her best friend and her boy friend are waiting. The choice to live or not to live is her hers, and now she must choose.
Characters
Mia is a Young Adult, but not only because of her age. She is a typical YA character, in love with a twat (sorry Adam), and as pretentious as one can be: She picked up the cello when she was eight because it seemed human, she is so different from her family because she prefers classical music, and when her parents tell a story her imagination is so vivid it feels like she's been there. ARGGGGHHH! It is so irritating to read a whole story from the perspective of such a character. YA authors always tend to make fairly normal characters with a few special traits, not realizing that maybe violet eyes are bit to much (yes, I have actually read a book about a girl with violet eyes and red curly hair with blonde highlights) Her boyfriend Adam is exactly the same, because trying to break into intensive care isn't  stupid and dangerous for the people lying in there but just heroic. I kind of like the other characters in the book, and I really like the punk culture which they live in, but again, the contrast with Mia and the people she knows is just too big.
Plot
The plot is rather shitty, the biggest cliffhanger for me is told in the synopsis. The title of the book is: 'If I Stay' and I guessed the answer to that even before I started reading. I would like to spend more time talking about the plot, but there isn't really one.
Overall reading experience
This book is, just as Mia, all the way YA. It has a YA cover, a YA writer, and loads of readers who are fond of YA. But I am not really into YA books, they just aren't my thing, so I dislike everything that people like about this book. I am not going to read part two of this book: 'Where She Went' or any other book of Gayle Forman. And I give it a…2.5 out of five, it was an OK story to read before bed but it just isn't for me, but if you do like YA books you will love it.
Bye, Sophie